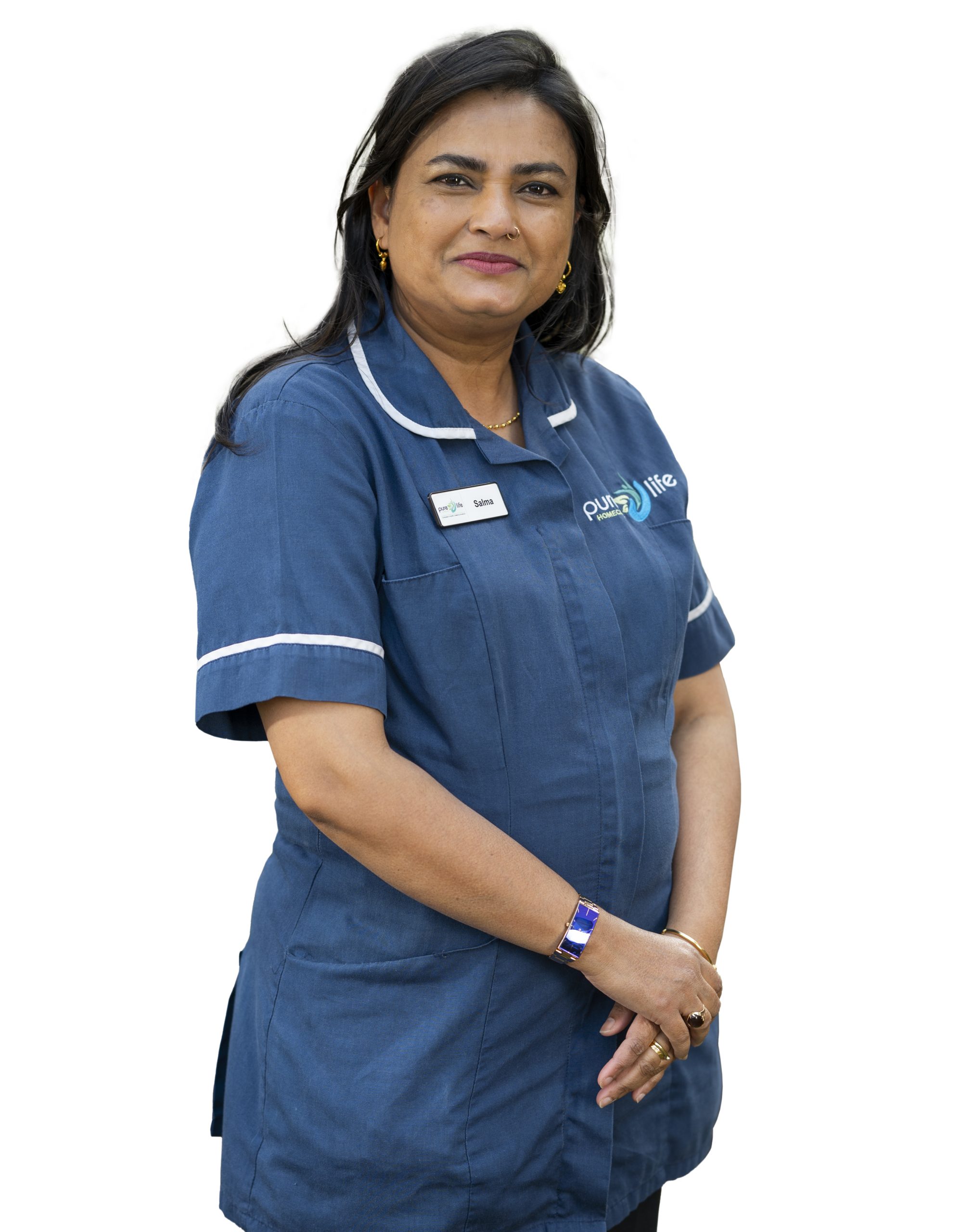 Complex Care at home
Sometimes a family member can find themselves facing the daunting challenges of several health conditions at once.
This can mean that a multitude of complex care needs to address at home, requiring long-term help from care professionals.
You might often find this referred to as complex care. That term in itself might at first leave you as a concerned relative scratching your head in confusion.
But there really is no need. Complex care needs are among the many specialist caring disciplines our home carers at Pure Life care are fully trained in – and can provide you at the highest level.
How do I get complex care at home for my loved one?
First things first, there will be a formal care assessment. This detailed medical overview of your loved one's complex care requirement is a crucial starting point. It provides a road map for the correct caring strategy which will be put into place at home.
However, the primary emphasis at this stage of the care assessment is on your relative's particular healthcare needs as a whole. Specific discussions – of which you as family are of course involved every step of the way – as to whether the care should be given at home or in a care home are separate matters from the initial assessment.
Depending on the level of your relative's complex health conditions, the process of screening and assessment can be speeded up, according to individual need, with the comfort of the person being cared for always front and centre of whatever decisions are made.
What type of complex care at home will my loved one receive?
We at Pure Life Homecare value the individual needs of your loved one receiving our care above all else. We care for the actual person you love, and see them as individuals and friends with all their feelings and complexities, who may be contending with a variety of complex health issues at the same time.
Any such complexities, however, are no impediment to the very highest quality home care provision, given every day by our highly experienced team with kindness, empathy and humanity running at the heart of our service throughout.
We understand fully how health conditions – especially with complex care – can vary hugely from person to person. Any such specific variations and complexities, and the way conditions can change as time progresses, are all taken into account and acted upon within the daily care schedule given to your loved one.
Our Pure Life home care plans always build in this factor, and are wholly tailored according to the individual's needs. No two complex care plans are the same; your loved one will have their very own care package, giving that essential peace of mind to the care-for and likewise for yourselves as relatives.
It's more than likely that neither you as family and your loved one will never have needed to face such challenging times before. The onset of the need for complex care can throw a lot of what were once seen as certainties up in the air. The vast experience of our home carers has taught us this.

And it's this high-level caring experience which sets us apart. We at Pure Life Homecare combine the personal and the professional, to provide the most effective all-round complex care for your loved one.

So how are we different? We take a person-centred approach to every aspect of our complex care provision in your loved one's home. We combine emotional sensitivity with practical needs. Your loved one's safety, security and happiness, along with specialist professional care of their healthcare needs in difficult circumstances is what we give each one of our clients, every time.

Compassion and understanding are large parts of this, too. So are communication and emotional engagement. They all run as a common thread through our complex care plans, and indeed all our other care plans at Pure Life Homecare. The way this personal, individual-led style of care helps maintain your relatives' dignity and boost their quality of life in a home care setting is there for all to see. We are all social people, after all: the carers and the cared-for. No health challenges, no matter how complex can change the essence of that. We're proud and privileged to deliver our home care to your treasured relatives this way. And we do just that every time.
Alongside the personal, caring touch, our home care professionals always implement a rigorous and fastidious approach when providing healthcare to each individual entrusted in our care in their home environment.

The very highest quality service for people with complex care needs is what your loved one requires and deserves every day throughout each home care plan. And that's exactly what they will get.

Where complex care is concerned, these plans are often the complete opposite of a static process. Needs change over time, with certain health issues changing in varying ways and to varying degrees. This is totally normal – and why our complex care plans are never rigid and have an in-built flexibility.

These different levels - and shifting types - of complex care needs are monitored and reviewed all the time. This is put into place in liaison and collaboration with all the relevant medical and care professionals - plus yourself as close family - who fully understand your loved one's needs as an individual, and can act and adapt effectively and accordingly. Our Pure Life carers get to know each individual on a case by case basis, and as such give the highest levels of support and home health care that's both required and deserved.
How your loved ones benefit from complex care at home

Home isn't just where the heart is. It is the epicentre of family life, a repository of memories shared. A place of joy, security, familiarity, tears and laughter, where friends and family come to stay and visit, fun and quality time is spent.
The good times. Complex care needs as time goes on doesn't have to change that. Your loved ones can receive all the support, health and personal care they require in the sanctity of their own home.
If the person needing help with complex care issues has a husband, wife or partner living with them, staying under one's own roof with professional, daily healthcare provision at hand can be a huge relief. Not just in dealing with and understanding the practicalities of complex care needs, but also as a source of support. Someone to talk to, explain the situation and from whom you can seek advice.
The same goes for all family members looking for support; Pure Life home care providers are professional, compassionate and friendly sounding boards in the middle of a complex situation. And the benefits to the quality of life for yourselves who care so much and for your loved one receiving the care is invaluable.